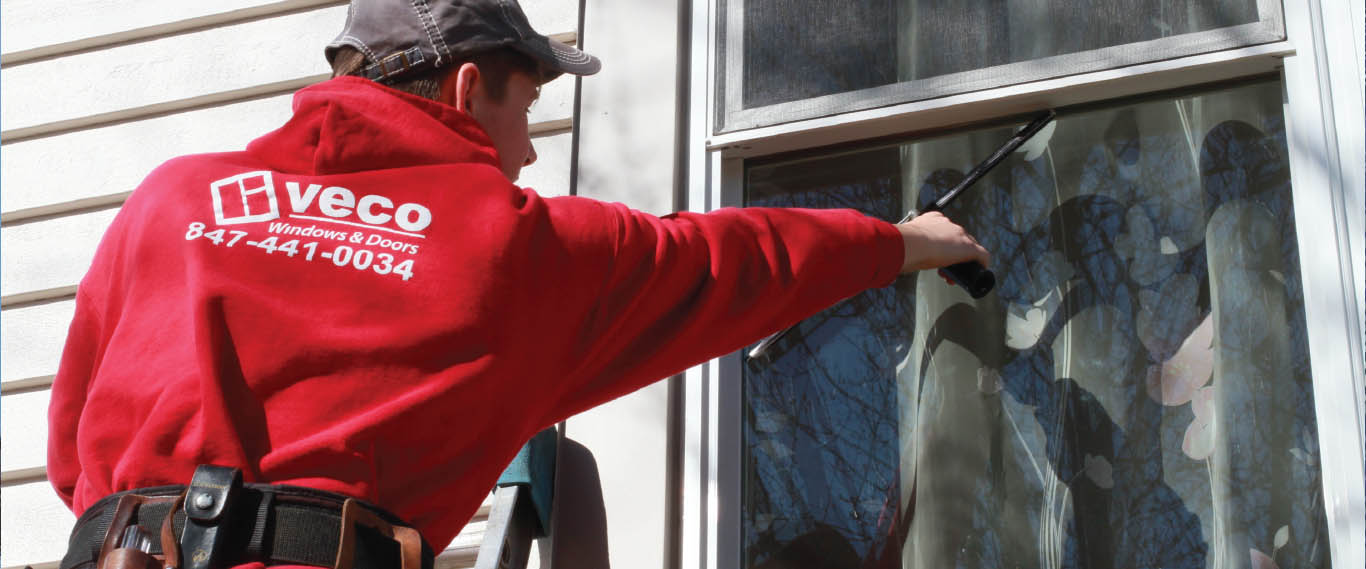 Welcome to VECO Windows & Doors!
Do you want a clearer view of the world on the other side of your windows? If you do then you need the right window washing service in Long Grove, Killdeer, Hawthorn Woods, Barrington, Inverness to help you see what's just outside your home or office. The windows of the building you make use of can be the view to the world around you that gives you a relaxing feeling during the day, but not if they aren't clean. If you're looking for the best window washing service in the Long Grove, Killdeer, Hawthorn Woods, Barrington, Inverness area, call VECO windows and doors and let us show you what's on the other side of the glass.
As a team of professionals we've gained a stellar reputation by servicing homes and businesses in the Long Grove and Killdeer area with our professional window washing service. We've been building this reputation over many years and have become known as the team to call when you need the best window washing service in the Hawthorn Woods area to get the job done the right way. We'll proudly show you some of the homes and businesses in Barrington where we provide the window washing service and let the light shine in.
Once you've experience our professional window washing services in Inverness you'll turn to us for other services as well. We aren't just a window washing company, we also provide professional services to replace or restore doors and windows to help give your home and upgrade and a facelift that will make it look gorgeous once again. Let us handle the window washing for your Long Grove home, but also call us when you need to have your windows or doors replaced, we'll help you have the highest quality products and professionally install them for you.
Living in the Killdeer area, especially around some of the trees that can be a hassle in the Hawthorn Woods area, requires a regular gutter cleaning if you want to keep your roof healthy. For some gutters don't seem that important, but for those who understand the need for clean gutters to move the water away from the home and into the drainage area, a gutter cleaning service in Barrington is one of the most important aspects of their home maintenance. When you need a professional gutter cleaning service in Inverness, give us a call at VECO Windows & Doors.
Our team of experts can make sure you have the right gutter cleaning service in Long Grove to let you keep your gutters free of debris and maintain the parts of your home that can be affected by water. No one wants to have water pooling around the base of their home or see water flowing up out of the gutters and back on the roof. This could cause a disaster and damage to your home, give us a call and let us handle the gutter cleaning service you need in Killdeer to ensure you have clean and functioning gutters at all times.
Moving water from the roofline and through the gutters of your home is an important part of avoiding water damage to your home. Our gutter cleaning service in Hawthorn Woods will give you more than just a power wash cleaning. During the gutter cleaning service we provide in Barrington we'll inspect your gutters and let you know if there are any leaks or breaks that need to be addressed. If we find any issues during your Lake Forest gutter cleaning service that you need repaired, our team of experts will be glad to handle the repair for you and make sure your gutters will continue to give you the performance you need.
Whether you need a window washing service for your home or office or want us to provide you with the gutter cleaning services we offer, we'll gladly handle it for you. We are fully licensed and insured to give you the best service possible. Our technicians are highly trained experts who can provide you with more than just cleaning services. At VECO Windows & Doors we want you to start with the small jobs and then let us help you with the bigger jobs.
These bigger jobs can be the replacement or restoration of your doors and windows. We've made doors and windows the lifeblood of our work and will gladly help you by installing new doors and windows on your home when you need them. Give us a call for our cleaning services or for our professional installation services that will give your home or business the look and feel you want to enjoy. We're ready to serve you in the Long Grove, Killdeer, Hawthorn Woods, Barrington, Inverness.
Learn the Basics
Energy Efficiency
Quality Window Installation
Window Care and Maintenance
Vinyl Windows
TESTIMONIALS
This is my second time using Veco and I couldn't be happier. These guys know what they're doing! Always professional. Never rude. Get the work done in a timely fashion. Respects my property. They even follow up with me, which is a bonus. They are my go-to company for window washing. I recommend them to everyone.
Veco is an excellent company that came highly recommended from a friend. We contacted them about cleaning our fence, driveway and deck. The person who made our appointment was helpful and professional. When the crew arrived, they were very polite and got to work right away. The results were fantastic! Very clean and looks almost good as new. We cannot wait to use them again.
We were getting our house together for my son's wedding. We wanted everything to be perfect. Veco was a life saver! We called them and set up a window and deck cleaning. They got the work done quick and our windows and deck look superb! Thank you for making our special day even better! We highly recommend this company.